Schedule Spotlight: Advent Christian Church in St. Johnsbury, Vermont
We have already featured congregations with women pastors or other female leaders in several blog posts, such as "Schedule Spotlight: Reverend Ida Bedell Manville", or "Schedule Spotlight: Plymouth Brethren I:22". This month, to continue the thread and to celebrate Women's History Month, we are focusing on a schedule that highlights a woman-run church in Maine. The Advent Christian Church in St. Johnsbury, Vermont had a female preacher, and other women also featured prominently in the life of the church.
In 1926, when the U.S. Census of Religious Bodies collected schedules from over 200,000 congregations, few featured female preachers. However, these women did exist, as noted in the "Female Pastors in the 1926 Census Schedules". In St. Johnsbury, Susie M. Dow acted as preacher for the local Advent Christian church and is listed as such on the church's schedule. The church listed thirty-eight members, but the majority of those members were women: twenty-five women to thirteen men. Though it was not unusual for more women to be members than men, this ratio is pronounced. The preponderance of women in this church is further reflected on the individual schedule. Evalyn B. Dean, the church's clerk, signed her name at the bottom after filling out the schedule.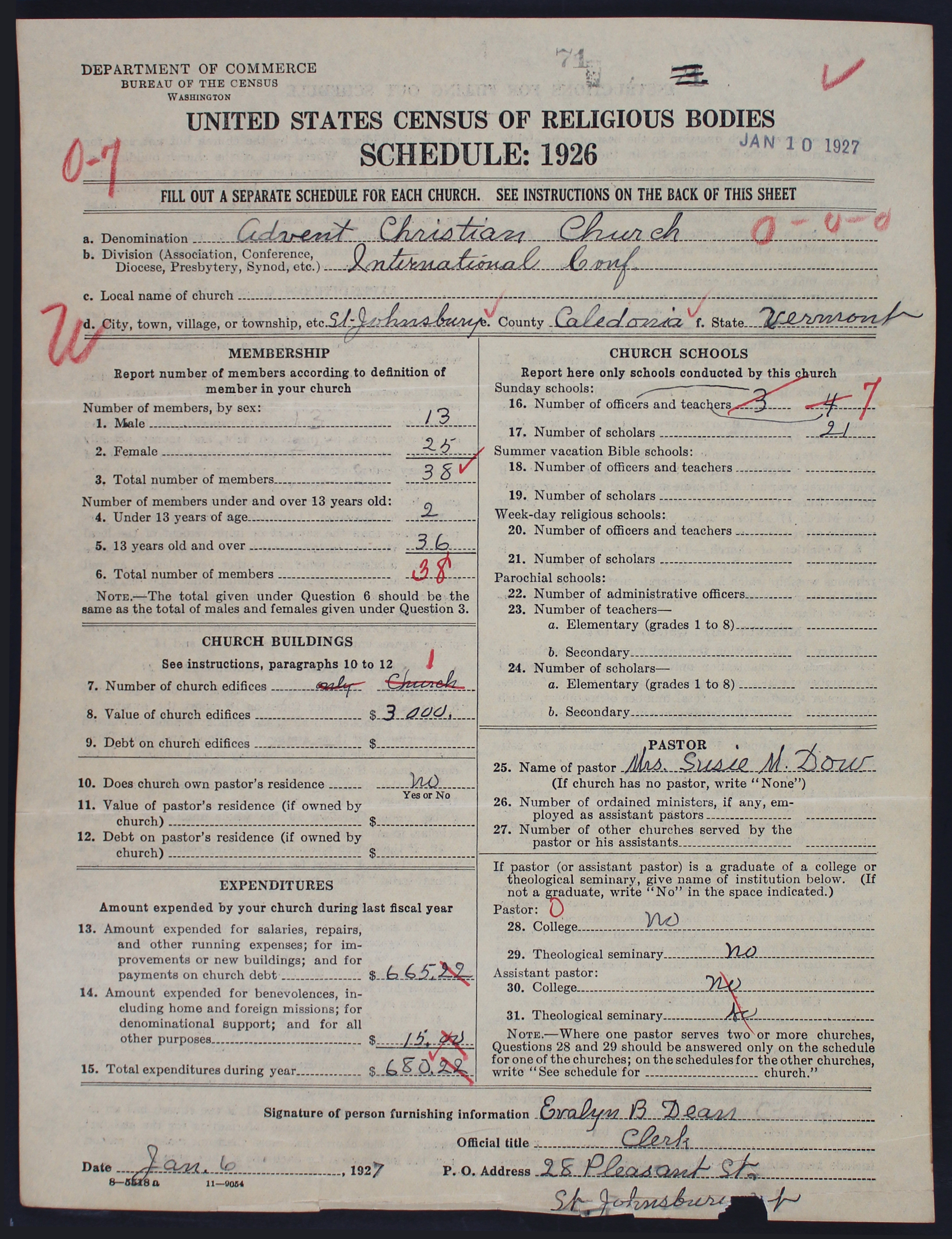 Beyond Dow as the preacher, or Dean as the clerk, women featured prominently in Sunday services. Local newspapers such as The Caledonian-Record and The St. Johnsbury Republican listed notices about services held at the church, and these notices often listed important women involved in the services by way of singing music or helping lead. For example, the Easter service in 1928 featured a program entitled "The Women's Easter," with a cast including May Safford, Ethel Mack, Marion Humphrey, Marguerite Creighton, and Mildred Austin. Following the program, a quartet of women singers, including Rev. Dow, performed, and more solos and duets followed.1 Children also participated, as eight-year old Flossie Lynaugh sang the closing song, "Easter Goodbye," before Rev. Dow ended the service with the benediction.2 Men did feature in the Easter program in smaller roles, with Geoge Mack and Robert Beck both doing a recitation, but the program centered on, and seemed to be for, women. Other holiday services also featured women. For the Christmas morning service in 1932, the church had a piano and organ performance by Mrs. Leo Beecher and Mrs. Gladys Russell, as well as duets with Rev. Dow and Mrs. Helen Moulton and another with Mrs. Dow and Mrs. Mable Grady.3 Other services featured similar performances by women, including Dow. The church also held other events centered around women and their organizations. For example, in 1927, the church hosted a Missionary Concert and tea sponsored by the Women's Home and Foreign Missionary Society.4
A woman important to Rev. Dow was Elizabeth Murray. Murray and Dow not only lived together, but frequently traveled together. Dow, a widow, also lived with Elizabeth and her husband John. Newspaper articles about local news updated readers on Susie and Elizabeth's whereabouts, and sometimes they traveled for church-related business. In 1928, for example, Dow and Murray had "been attending the International Advent-Christian Conference at Ayers-Cliff," a village in Quebec.5 Their travels to the conference demonstrates that the St. Johnsbury church not only supported their female preacher, but saw no need to send a man with her to represent the church. In 1930, Rev. Dow and Murray once again attended the annual convention, this time with other people: Mr. and Mrs. H. E. Dean, Mrs. Lena Clute, and Mrs. Mary Safford.6 This time, the church not only sent more women to represent the congregation, but only included a man as part of a married couple. In 1930, similarly, Murray and Dow attended a Sunday School convention in Boston, though this comes as less of a surprise as Sunday School was more of a woman's domain.7 In 1932, Dow and Murray once again attended a conference as representatives of the congregation, this time at a one-day conference of the Advent Christian Church in Newbury, where Rev. Dow was one of the speakers.8
Focusing on a congregation that supported a female preacher and highlighted involvement of women members in their services and other functions is an important acknowledgement for American religious history. Much religious history focuses on men in the pulpits and women in the pews, but this simplistic view obscures much. First, church members, like those at the Advent Christian Church in St. Johnsbury, were often involved in church affairs. Advent Christian not only had a women in the pulpit, but featured other women during services. Further, by sending almost exclusively women to conferences and annual conventions, they relied on their female members to represent their whole congregation. This church demonstrates that women can hold both formal and informal positions of leadership, and often, these roles would overlap.